About Rabbette's Furniture & Interiors
Our background
Rabbettes Furniture have been trusted for quality and service by the people of Mayo and Connacht for over 40 years.
- Quality furniture from reputable established suppliers
- Exceptional service and support
- Affordable nationwide delivery.
Our Castlebar Shop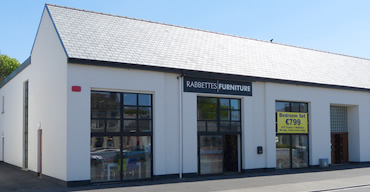 "Affordable Style and Quality"
Our Customer's Say:
"An absolute pleasure to deal with. We fitted out out entire house with help and advice from Rabbette's Furniture and interiors and are delighted at the results"
Clare - Mayo
"A hidden gem. I can't believe I didn't find you sooner. your prices and selection are really unbeatable. Thanks for all the help!"
Fionnuala - Ballina